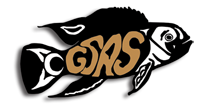 Greater Seattle Aquarium Society
The Greater Seattle Aquarium Society is a non profit corporation, organized under the laws of the State of Washington. The primary purposes of the society are to promote interest in the aquarium hobby, and to provide a forum for the exchange of information among aquarium hobbyists.
New to GSAS? Click here first for more information.
Latest News
Posted on Sun, 23 Apr 2017 (updated Mon, 24 Apr) by Erik
May 9: Bart Laurens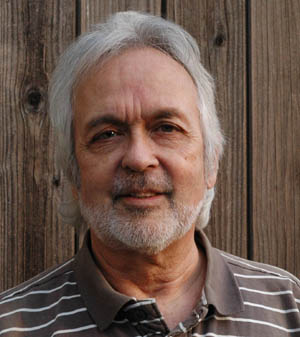 We are incredibly lucky to have Bart Laurens as our May speaker -- shedding light on the topic of Dutch Aquascaping, a classic aquarium planting style that predates Nature Aquarium by decades. Normal room (SPU, Otto-Miller Hall 109), normal time (6:30 social/setup, 7:30 meeting start).
Bart Laurens started his first aquarium at the age of 8, and became a member of the Dutch aquascaping organization N.B.A.T. at age 10. His specialty is Dutch Aquascaping, as typified by his ten-foot-long 260-gallon award-winning aquarium.
Bart has given 40 presentations in The Netherlands, and maintains a website about his hobbies. He has also worked with terrariums, breeding reptiles, amphibians and insects. He is also an enthusiastic photographer.

We will also have a mini auction, if you couldn't get enough of the recent April blowout!
Posted on Thu, 23 Mar 2017 (updated Fri, 07 Apr) by Jay
GSAS Huge General Auction is April 22nd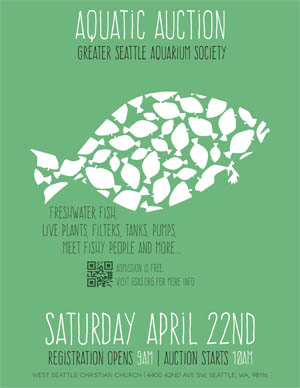 Here we go again Seattle... One of the largest aquarium societies in the country is having their largest event of the year. The annual General Auction is scheduled for April 22 at the West Seattle Christian Church, 4400 42 Ave SW. There is nothing related to the aquarium hobby you won't be able to find at this event. Last year we had a blast and so far this year it is shaping up to be even bigger. Check out our Facebook page for all updates and photos of just a sampling of what will be at the auction. This is one event that you will not want to miss.
There is plenty of free parking both on-street and in nearby lots. Registration starts at 9AM and we start the auction at 10AM. We don't stop until everything is gone at around 4PM. So come out for a few minutes or stay all day and see what great items you can get for a bargain.
We have new items donated by both the local sponsor stores and major aquatic companies. Our members bring amazing items that they have collected over their years of aquarium keeping that are considered treasures in the hobby. Come on out and don't let that deal of the year slip past you.
You can even help out by printing out one of the five collectible posters, and hanging them on local boards that allow it.
Posted on Sun, 19 Mar 2017 by Erik
2017 Home Show Video now available
The video from this year's home show is now available for your viewing pleasure!
Also see the slide gallery and previous years here.
Posted on Sun, 26 Feb 2017 by Erik
March 14th - Home Show Presentation
Short version: March 14th, 7:30 PM, SPU Otto-Miller Hall 109, Home Show Video, Judging and Awards!
You've been hearing the hype for months, now come see the show -- Our panel of judges and photographers invaded eight homes in the Puget Sound area. At our next meeting, we will present a 45-minute video of it all, followed by an awards presentation of the best aquariums. If this is the first time you've seen a home show, take a look at last year's video.
Here is a quick commercial for the meeting:
As always, following the presentation, we will have our monthly auction.
Posted on Thu, 16 Feb 2017 (updated Sun, 23 Apr) by Erik
Big General Auction is April 22nd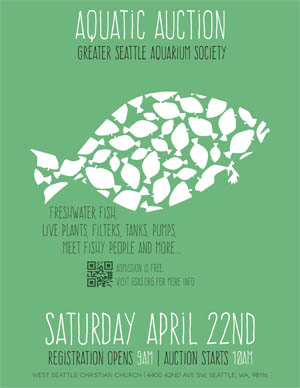 Mark your calendars! April 22nd is our annual Massive General Auction (note special date, time and location)! Once again, we are holding it at the West Seattle Christian Church, 4400 42 Ave SW. There is lots of parking on-street and in nearby lots. Registration starts at 9AM, and bidding at 10AM sharp.
You might see about anything at the General Auction -- aquatic animals, plants, tanks, decor, drygoods. Items come from local store donations, national product manufacturers, and most importantly, our members themselves. You might find that brand-new LED light fixture, or maybe a box of 20-year-old heaters... Check our Facebook page for a photo gallery throughout the March and April as we approach the date. Also many members post what they are selling on our mailing list Airstone.
You can also help by printing out one of the five collectible posters, and getting it put up in your favorite store or community bulletin board.
More information to follow...
Posted on Sun, 22 Jan 2017 by Erik
February 14: Tom Barr: Aquatic Plant Care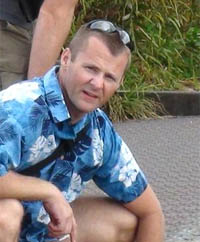 Tuesday, February 14, 7:30 PM meeting start, usual meeting location Otto-Miller Hall, SPU.
We are excited to have plant luminary Tom Barr (pictured in photo examining plants in Lake Washington) once again visit us from Sacramento California! Owner of the Barr Report website, promoter of EI fertilization, supplier of those excellent mystery stem plants at the November auction, and creator of excellent large aquascapes, Tom will speak this time around on Care of Aquatic Plants. Whether it's the critical element of trimming, or the essentials of CO2, Tom will no doubt have tons of advice how to keep your plants in top shape.
Posted on Thu, 29 Dec 2016 (updated Thu, 16 Feb) by Erik
GSAS Spring Season Dates and Topics
Here are the upcoming meetings for the first half of 2017!
January 10, 2017

"My Favorite Fish" - Eight Individual Perspectives from the GSAS membership.

February 14

Tom Barr - something about aquarium plants

March 14

Home Show Presentation

April 22 (Saturday)

General Auction, West Seattle Christian Church.

May 9

Bart Laurens - Dutch Aquascaping

June 13

Rachel O'Leary - Nano Fish
Posted on Wed, 30 Nov 2016 by Erik
Plant Auction - THANK YOU!
A big thanks to everyone who participated in our big plant auction this month... Florida Aquatic Nurseries, who gave us hundreds of dollars worth of free plants, Wholesale Fish and Pets who gave us a nice discount on our order and included some freebie tissue culture bags, Aquarium Zen who spontaneously donated some new and unusual species, and the mysterious new Member #1160 who donated all the items she brought.
Thanks also to auctioneer Phil and his record time of 2.85 items per minute, our crack team of recorders, registrar, preview entry kids, and runners.
Finally, thanks to all of you who came and purchased things. We are hoping to have two very cool plant speakers next year to make up for the recent drought on the topic.
Posted on Tue, 17 May 2016 by Erik
Thanks to our 2016 Auction Donors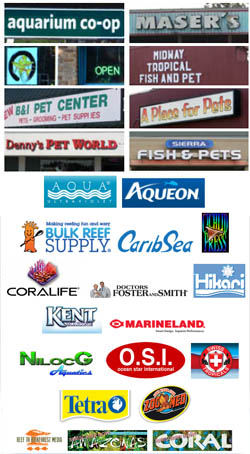 A huge thanks to all the attendees and volunteers at our 2016 Big General Auction -- we sold a ridiculous number of items, and will be able to keep GSAS running quite healthily for the next year, including some speakers from across the country and even the ocean (hopefully no cancellations this time!)...
Please buy stuff from all the local stores and national companies that provided us with the huge variety of donations this year! We are really appreciative of their support.