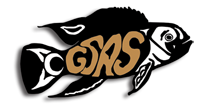 Greater Seattle Aquarium Society
The Greater Seattle Aquarium Society is a non profit corporation, organized under the laws of the State of Washington. The primary purposes of the society are to promote interest in the aquarium hobby, and to provide a forum for the exchange of information among aquarium hobbyists.
New to GSAS? Click here first for more information.
Latest News
Posted on Tue, 26 May 2015 by Erik
June 9: Cory McElroy - Ponds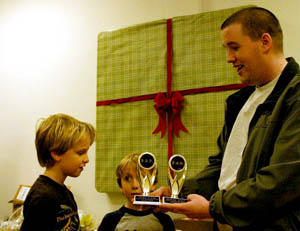 This month's talk is Mini Ponds, Fun for the Whole Family, presented by our own Cory McElroy. Cory, in addition to his full-time job running Aquarium Co-Op, has been active in multiple roles with GSAS for many years, the most impactful of which was the resuscitation of the BAP program (see photo). He was also the lead tech behind our tank revamp-turned reality show a few years ago.
Cory describes himself thusly: Since being diagnosed with Multiple Tank Syndrome, Cory McElroy has worked in the fish trade for seven years. After opening his own fish store a couple years back, the Multiple Tank Syndrome subsided...only to be replaced with an addiction to Koi and outdoor ponds. Cory can be found playing in many ponds from ten to one thousand gallons in his spare time.
We also have our monthly auction and bowl show (aquaponics themed for the latter), plus elections!
Posted on Tue, 28 Apr 2015 by Erik
May 12th (and 13th!) Meeting - Kris Weinhold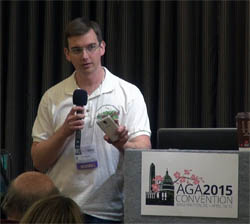 Kris Weinhold grew up keeping aquariums, but really fell in love with planted aquariums about a decade ago, diving head-first into researching and experimenting with various plants, growing techniques, and aquascape designs. Kris is a past president of the Greater Washington Aquatic Plant Association (the other Washington), and has published articles in The Aquatic Gardener, Aquarium International, and had his photos appear in several other publications. He also maintains a website/blog showcasing his aquarium and nature photography, and his informative articles on aquarium keeping and aquatic plant ecology. Last month, he chaired the most recent Aquatic Gardeners Conference (see photo).
On May 12th (usual meeting night, usual time, usual place!), Kris will talk will walk through the basic methods for designing, planting, and maintaining an aquascape. His methods will focus on planted aquaria, but are applicable to any beautifully aquascaped tank.
Come back the following night (May 13), same time (but in room 127 right next door) to hear a more advanced talk on tips and tricks Kris has learned over the years of keeping planted tanks. In particular, his low-budget fertilizer auto-doser is a thing of wonder!
After the normal meeting, stick around for the monthly auction and bowl show awards.
Posted on Tue, 28 Apr 2015 (updated Fri, 01 May) by Erik
2015 Auction - Thanks!
A massive thanks to all the attendees and volunteers at our 2015 Big General Auction -- we sold a record number of items, and will be able to keep GSAS running quite healthily for the next year, including some speakers from across the country and the ocean...
A special thanks to all the local stores and national companies that provided us with the huge variety of donations this year!
Posted on Sun, 15 Mar 2015 (updated Fri, 27 Mar) by Erik
General Auction Coming! April 18th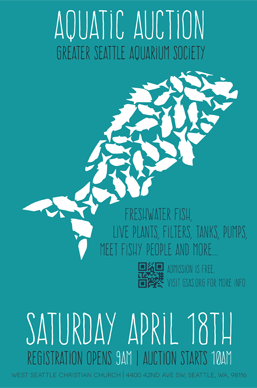 Join us Saturday, April 18th for our annual Massive General Auction (note special date, time and location)! Once again, we are holding it at the West Seattle Christian Church, 4400 42 Ave SW. There is lots of parking on-street and in nearby lots. Registration starts at 9AM, and bidding at 10AM sharp.
You might see about anything at the General Auction -- aquatic animals, plants, tanks, decor, drygoods. Items come from local store donations, national product manufacturers, and most importantly, our members themselves. You might find that brand-new LED light fixture, or maybe a box of 20-year-old heaters. Check our Facebook page for a photo gallery of items. Also many members post what they are selling on our mailing list Airstone.
This event is our club's main fundraiser, so we hope to see you there to support us with your donations, split items and just buying things! A good turnout will help us bring in great speakers for the next year. We also need lots of volunteers (computer operators, runners, raffle ticket sellers, etc). You don't have to volunteer all day, even an hour helps. You can also help by printing out one of the five collectible posters, and getting it put up in your favorite store or community bulletin board.
Whether you're a seller or buyer, please take a minute to review the auction guidelines. If you are bringing items to sell, please pre-register here if at all possible.
Posted on Mon, 23 Feb 2015 by Erik
Home Show Presentation March 10th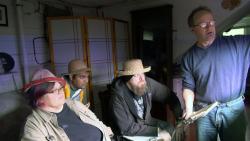 Join us March 10th for the video and awards presentation of our 2015 Home Show. Four judges (see photo), a photographer and videographer crammed ourselves into a van earlier this month, and spent two days and over 300 miles driving around Puget Sound. At the meeting. you'll see fifteen members (13 homes) proudly showing off their tanks, and talking about how and why they keep aquariums. This has become one of the most fun and popular meetings every year since its revival in 2009.
We are publishing a series of bonus videos for the next two weeks to whet your appetite until the meeting.
Posted on Thu, 29 Jan 2015 by Erik
February 10: Jennifer Reynolds - Freshwater Stingrays
Jennifer Reynolds hails from Vancouver BC, where she spent over a decade as a Senior Biologist at the Vancouver Aquarium. She has previously spoken to GSAS on travels to the Rift Lakes of Africa and the Amazon.

This time around she will be presenting Freshwater Stingrays in the Wild and in the Aquarium. Learn more about the natural history of South America's Neotropical Stingrays (Potamotrygonidae), and how it relates to keeping them in captivity. Jennifer discusses evolution, biology, captive husbandry (including tank sizes and dietary needs), and provides tips and tricks for dealing with picky or delicate rays, including newborn pups. The talk finishes with a case study of the rare successful reproduction of Tiger Stingrays (Potamotrygon tigrina) in her area at the Vancouver Aquarium.
Monthly auction to follow as usual.
Posted on Tue, 16 Dec 2014 by Carol
The GSAS CARES Program is Live!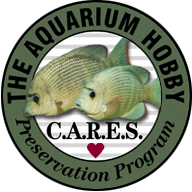 CARES is a conservation program for normal hobbyists like us! Help preserve a species by keeping it in our tanks. Have you been wondering when and how to get involved? GSAS has launched our local program with a slew of
CARES-related pages on the GSAS website
. There are links to help you see if your species qualifies, to help you register your species, an information packet, as well as a species journal. Want to know more on how the program works? Then read the details on the
CARES page
, download the Member Information Packet or email the CARES Committee for more details. Thank you and enjoy!
Posted on Sun, 23 Nov 2014 (updated Sun, 21 Dec) by Erik
GSAS Spring Meeting Schedule and Topics
Here are the
upcoming meetings for the Spring 2015 GSAS Season
:
January 13 2015

Beyond the Can of Flakes (Jay and Carol Geiler)

February 10 2015

Freshwater Stingrays (Jen Reynolds)

March 10

Home Show

April 18 - Saturday!

BIG General Auction (at West Seattle)

May 12

Aquatic Plants (Kris Weinhold)