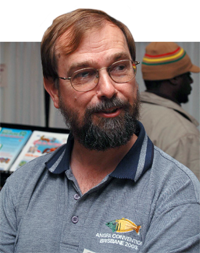 We've had tons of requests to have Gary Lange back after he visited GSAS in 2011. Gary is one of the most prominent experts on Rainbowfish in the country, as well as a columnist, author, photographer and collector. He's also a professional chemist. You may even occasionally see his insightful posts on Airstone! Here's what Gary has to say about his talk:
"Just a Taste of the Most Amazing Tropical Fishes of All: Rainbowfish from Australia and New Guinea"
Rainbowfish are truly amazing fishes. When you think of every color of the rainbow, they've got you covered. When you think of a fish that every single day shows you its spawning colors, rainbowfish are the perfect choice. When you think of a fish that really makes this looks good, and in a planted tank, rainbowfish are the ones to choose.
We'll go over how to keep, breed and raise rainbowfish. We'll talk about what foods they like and how to keep them happy and healthy. We'll go over quite a few of the different species, named and unnamed at the moment from Australia and the island of New Guinea. Every single trip for me and many other explorers are yielding new species of rainbowfish, almost too many to imagine!
Gary will also giving a second "Members-Only" meeting at a secret location in the North end... details here.
Meeting is in our usual location, Otto-Miller 109. Refreshments and social time start at 6:30, talk starts at 7:30. Monthly auction follows the talk.