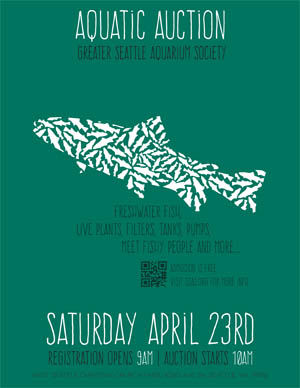 Join us Saturday, April 23th for our annual Massive General Auction (note special date, time and location)! Once again, we are holding it at the West Seattle Christian Church, 4400 42 Ave SW. There is lots of parking on-street and in nearby lots. Registration starts at 9AM, and bidding at 10AM sharp.
You might see about anything at the General Auction -- aquatic animals, plants, tanks, decor, drygoods. Items come from local store donations, national product manufacturers, and most importantly, our members themselves. You might find that brand-new LED light fixture, or maybe a box of 20-year-old heaters. There will literally be truckloads of items this year... Check our Facebook page for a photo gallery throughout the month as we approach the date. Also many members post what they are selling on our mailing list Airstone.
This event is our club's main fundraiser, so we hope to see you there to support us with your donations, split items and just buying things! A good turnout will help us bring in great speakers for the next year. We also need lots of volunteers (computer operators, runners, raffle ticket sellers, etc). You don't have to volunteer all day, even an hour helps. You can also help by printing out one of the five collectible posters, and getting it put up in your favorite store or community bulletin board.
Whether you're a seller or buyer, please take a minute to review the auction guidelines. If you are bringing items to sell, please pre-register here if at all possible.