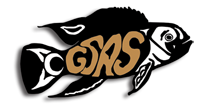 Greater Seattle Aquarium Society
The Greater Seattle Aquarium Society is a non profit corporation, organized under the laws of the State of Washington. The primary purposes of the society are to promote interest in the aquarium hobby, and to provide a forum for the exchange of information among aquarium hobbyists.
New to GSAS? Click here first for more information.
Latest News
Posted on Sun, 29 Nov 2015 by Christine
GSAS Holiday Party December 15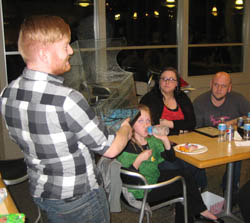 Here are the details in a nut shell:
What: GSAS Holiday potluck, White Elephant gift exchange, BAP/CARES awards and Fish-O
When: Tuesday, December 15th, 2015, doors open at 7pm.
Where: SPU Student Union Gazebo, 315 West Bertona St, Seattle, WA 98119
What to bring: a dish to share, present for the white elephant gift exchange, your family/friend
Hello GSAS Fish Lovers,
It's almost time for our annual Holiday Potluck meeting on Tuesday, December 15th. This is the 3rd Tuesday of the month due to SPU's schedule. The doors open at 7pm, come early and help set up!! We will be holding the party in the Student Union Building Gazebo, same place as last year. See Map to the meeting, and Google Directions.
We will have a potluck dinner, for which the club provides ham, rotisserie chicken and bean stew (vegetarian), drinks, paper plates and plastic utensils. PLEASE bring a dish to share, sweet or savory …. Your choice. If you would like to participate in the White Elephant gift exchange, bring a gift wrapped, fish themed item and see what you can take home. (Value ~$10-$15) We'll also play FISH-O … a roaring game of fishy themed bingo where you can win great prizes. Carol, our BAP/CARES chairperson, will award prizes to the top fish breeders in the club. We hope to see you there, and bring the family!! If you could drop me a line at cranegger@msn.com to let me know you are coming and how many will be in your party, that would be very much appreciated! We want to make sure to have enough utensils, drinks and ham/chicken/beans for all!
Posted on Sat, 17 Oct 2015 (updated Sat, 07 Nov) by Erik
Big Plant (and Fish!) Auction Coming November 10th
Join us on Tuesday, November 10th for our annual Aquatic Plant and Fish Auction! This is our second-largest fundraiser of the year, and a great way to acquire new plants, fish or invertebrates. The stock is mostly brought in from members, but we also get some commercially-grown aquatic plants. There will be specimens suitable for beginners and advanced aquarists alike!
Just like the April auction, we will be holding it at the West Seattle Christian Church at 4400 42nd Ave SW. This is a great large space, easy to navigate to from I-5 and the West Seattle Bridge, and has a lot of close parking on the street and in two lots.
Bidding starts at 7, preview and setup at 6. Please read the auction guidelines for more information. Non-members are welcome! If you are a member, please pre-register your items. Also, if you have a large number of donations, contact auction chair Erik at erik@thekrib.com.
Bid early, bid often, support your club!
Posted on Sun, 20 Sep 2015 (updated Wed, 07 Oct) by Erik
October 13 Meeting: Fact & Fiction in Aquarium Lighting
We are proud to announce our October speaker is Cara Wade, who will be speaking on
Fact and Fiction in the World of Aquarium Lighting
. Cara has over twenty years of professional experience in the fish- and aquarium-related world, including fish research, wildlife film making, science curricula development, aquarium retail sales, and most recently, aquarium lighting design... but she still gets excited over a nice Betta or the livebearers in the local creeks. She works as a photobiology consultant at Build My LED, where she designs and tests spectra and helps meet the lighting needs of clientele in the aquarium, research and horticultural worlds.
Cara will also be presenting a second talk just for members on Monday October 12 at 7PM (same building, one room over): Fundamental goals and differences in lighting for freshwater, reef, terrarium and horticulture. Bring your questions! If you e-mail them to us at erik@thekrib.com, Cara will prepare appropriate graphics to answer them!
Posted on Sat, 19 Sep 2015 by Erik
Four new videos available!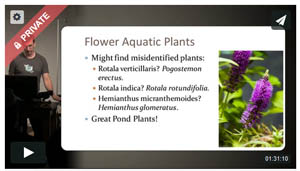 If you haven't been following the GSAS e-mail forum Airstone, you may not be aware that we have been putting out four talk archives for the month of September. Cory McElroy's talk on mini-ponds, Kris Weinhold's two talks on the planted aquarium, and now our most recent presentation by Steev Ward on microscopic aquarium life.
If you're a GSAS member, you can see all four at our talk archive
If you're a guest, you'll be happy to know that two of these talks are available for free viewing (Cory and Steev). Free!!!!
Cory McElroy: Mini Ponds
Steev Ward: Microscopic View of Aquarium Life
Enjoy!
Posted on Wed, 26 Aug 2015 (updated Sat, 17 Oct) by Erik
Fall 2015 Upcoming Meetings!
Here is the GSAS fall schedule. Can hardly wait!
September 8

Steev Ward: A Microscopic View of Aquarium Life

October 13

Cara Wade: Aquarium Lighting/LED

November 10

Giant Plant Auction (at West Seattle)

December 15

Holiday Party at Gazebo

Spring...

The return of Pleco Barbie Fiorentino, a new Betta speaker, Home Show, General Auction, and more!
Posted on Sun, 09 Aug 2015 by Erik
Introducing Our 2015-2016 GSAS President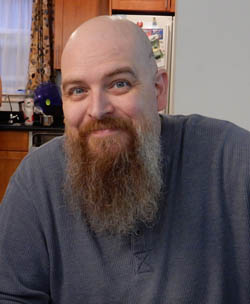 Our newly-elected president of the board for this year is none other than Mike Ward. Mike and his family have been GSAS members for about three years, and he has been on the board for the past year. He is also keeper of the bowl show and fish of the month programs. His family also participated in the most recent home show (see his home here). Congratulations Mike!
Posted on Tue, 28 Apr 2015 (updated Fri, 01 May) by Erik
2015 Auction - Thanks!
A massive thanks to all the attendees and volunteers at our 2015 Big General Auction -- we sold a record number of items, and will be able to keep GSAS running quite healthily for the next year, including some speakers from across the country and the ocean...
A special thanks to all the local stores and national companies that provided us with the huge variety of donations this year!