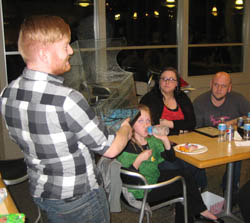 What: GSAS Holiday potluck, White Elephant gift exchange, and Fish-O
When: Tuesday, December 16th, 2014, doors open at 7pm.
Where: SPU Student Union Gazebo, 315 West Bertona St, Seattle, WA 98119
What to bring: a dish to share, present for the white elephant gift exchange, your family/friend
RSVP: cranegger@msn.com or online
It's almost time for our annual Holiday Potluck meeting on December 16th.
The doors open at 7pm, come early and help set up!!
We will be holding the party in the Student Union Building Gazebo, same place as last year. Please see the detailed map.
We will have a potluck dinner, for which the club provides ham, rotisserie chicken and bean stew (vegetarian), drinks, paper plates and plastic utensils. PLEASE bring a dish to share, sweet or savory …. Your choice. Like the picnic, let us know what you're bringing here.
If you would like to participate in the White Elephant gift exchange, bring a gift wrapped, fish themed item and see what you can take home. (Value ~$10-$15)
We'll also play FISH-O … a roaring game of fishy themed bingo where you can win great prizes (see photo).
Cory, our BAP chairperson, will award prized to the top fish breeders in the club. Roy, our HAP chairperson will award prized to the crème de la crème of the plant growers. Mike, our Bowl Show chairperson will award a prize to one of the people who have participated in the Bowl Show this year.
We hope to see you there, and bring the family!! If you could drop me a line at cranegger@msn.com to let me know you are coming and how many will be in your party (you can also RSVP online), that would be very much appreciated! We want to make sure to have enough utensils, drinks and ham/chicken/beans for all!