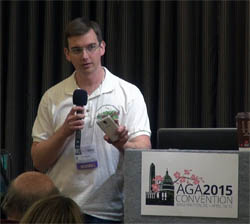 Kris Weinhold grew up keeping aquariums, but really fell in love with planted aquariums about a decade ago, diving head-first into researching and experimenting with various plants, growing techniques, and aquascape designs. Kris is a past president of the Greater Washington Aquatic Plant Association (the other Washington), and has published articles in The Aquatic Gardener, Aquarium International, and had his photos appear in several other publications. He also maintains a website/blog showcasing his aquarium and nature photography, and his informative articles on aquarium keeping and aquatic plant ecology. Last month, he chaired the most recent Aquatic Gardeners Conference (see photo).
On May 12th (usual meeting night, usual time, usual place!), Kris will talk will walk through the basic methods for designing, planting, and maintaining an aquascape. His methods will focus on planted aquaria, but are applicable to any beautifully aquascaped tank.
Come back the following night (May 13), same time (but in room 127 right next door) to hear a more advanced talk on tips and tricks Kris has learned over the years of keeping planted tanks. In particular, his low-budget fertilizer auto-doser is a thing of wonder!
After the normal meeting, stick around for the monthly auction and bowl show awards.