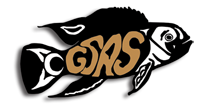 GSAS: January 10: Micro-Talks: "My Favorite Fish"
Posted on Sun, 01 Jan 2017 by Erik
TL;DR version: January 10th, 6:30 PM social, 7:30 PM meeting start, Otto-Miller Hall 109, SPU campus (usual meeting location).
We are back from the fall 2016 break, and diving full-force into the winter 2017 season. This month, we are going to try something new: Micro-talks! Eight members will each present a five minute talk, and at the end of each talk, there will be two minutes for questions before we quickly move to the next person. The topic is My Favorite Fish, so each member will make the case for why they like a particular species of fish.
We will also have the usual monthly business, including the postponed year-end HAP awards, the monthly auction, and even a rumored bowl show!