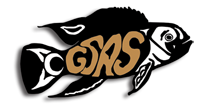 GSAS: Big General Auction is April 22nd
Posted on Thu, 16 Feb 2017 (updated Sun, 23 Apr) by Erik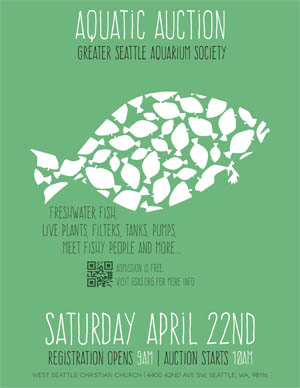 Mark your calendars! April 22nd is our annual Massive General Auction (note special date, time and location)! Once again, we are holding it at the West Seattle Christian Church, 4400 42 Ave SW. There is lots of parking on-street and in nearby lots. Registration starts at 9AM, and bidding at 10AM sharp.
You might see about anything at the General Auction -- aquatic animals, plants, tanks, decor, drygoods. Items come from local store donations, national product manufacturers, and most importantly, our members themselves. You might find that brand-new LED light fixture, or maybe a box of 20-year-old heaters... Check our Facebook page for a photo gallery throughout the March and April as we approach the date. Also many members post what they are selling on our mailing list Airstone.
You can also help by printing out one of the five collectible posters, and getting it put up in your favorite store or community bulletin board.
More information to follow...