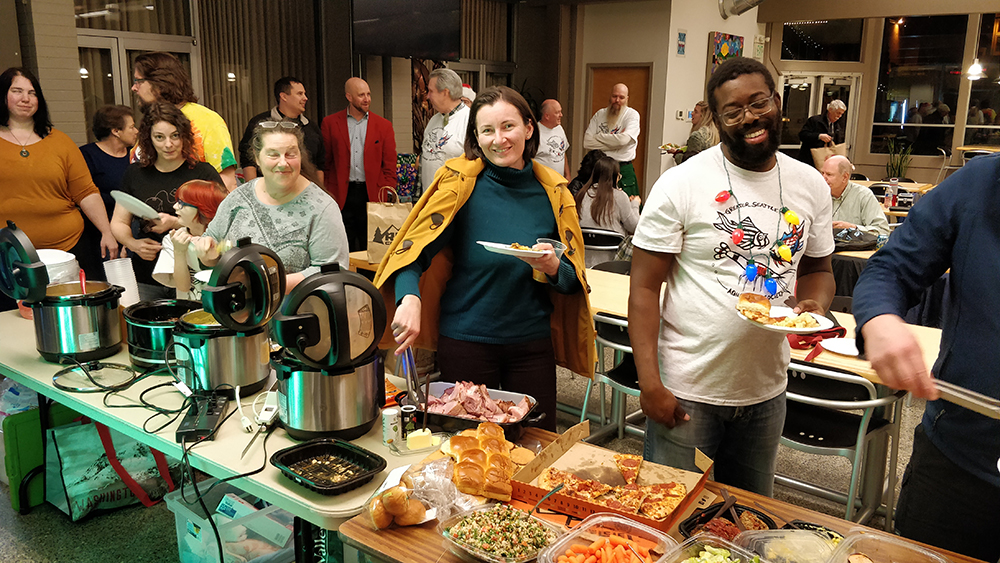 What: GSAS Holiday potluck, White Elephant gift exchange, BAP/HAP awards and FISHO
When: Tuesday, December 13th 2022, doors open at 6:30pm, food at 7pm.
Where: SPU Student Union "Fireside Room", 315 West Bertona St, Seattle, WA 98119 (and online -- see details below)
Bring: a dish to share, present for the white elephant gift exchange, your family/friend
Hello GSAS members,
It is time for our annual Holiday Party, mark your calendars for Tuesday December 13th at 7pm. The doors will open at 6:30pm, feel free to come a little early and help us set up.
Please provide proof of vaccination or a negative PCR test result within the previous 72 hours. If you are experiencing any cold or flu like symptoms please stay home. You will be able to play FISHO with everyone via the Zoom link below 😀!
We will be holding the party in the same building as the last few years (Student Union Building) in the same room as last year, the Fireside Room!

We will have a potluck dinner, for which the club provides ham, rotisserie chickens and bean stew (vegetarian/vegan), drinks, paper plates and plastic utensils. PLEASE bring a dish to share, sweet or savory …. Your choice.
If you would like to participate in the White Elephant gift exchange, bring a gift-wrapped, fish themed item and see what you can take home. (Value ~$10-$15)
We'll also play FISH-O … a roaring game of fishy themed bingo where you can win great prizes. If you are unable to attend in person you can join us via Zoom for Fisho - click on the button above!
Leslie, our BAP chairpersons, will award prizes to the top fish breeders in the club. Roy, our HAP chairperson, will award prizes to the most accomplished plant geeks.
We hope to see you there, and bring the family!! If you could drop me a line at cranegger1@gmail.com to let me know you are coming and how many will be in your party, that would be very much appreciated! We want to make sure to have enough utensils, drinks and ham/chicken/beans for all!