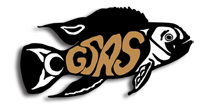 Greater Seattle Aquarium Society
The Greater Seattle Aquarium Society is a non profit corporation, organized under the laws of the State of Washington. The primary purposes of the society are to promote interest in the aquarium hobby, and to provide a forum for the exchange of information among aquarium hobbyists.
New to GSAS? Click here first for more information.
Latest News
Posted on Thu, 12 Oct 2017 (updated Fri, 13 Oct) by Erik
Live Auction November 14th in West Seattle!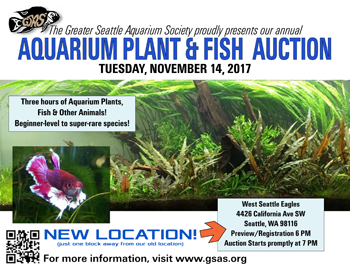 Join us on Tuesday, November 14th for our annual Aquatic Plant and Fish Auction! This is our second-largest fundraiser of the year, and a great way to acquire new plants, fish or invertebrates. The stock is mostly brought in from members, but we also get some commercially-grown aquatic plants. There will be specimens suitable for beginners and advanced aquarists alike!
This year we are just a block and a half away from last year's site, to the Fraternal Order of Eagles, 4426 California Ave SW. Easy to navigate to from I-5 and the West Seattle Bridge, right next to a ton of great food options, and parking in two lots and on the street.
Bidding starts at 7, preview and setup at 6. Please read the auction guidelines for more information. Non-members are welcome! If you are a member, please pre-register your items. Also, if you have a large number of donations, contact auction chair Erik at erik@thekrib.com.
Bid early, bid often, support your club!
Posted on Tue, 26 Sep 2017 by Erik
October 10: Scott Fellman - Blackwater Aquariums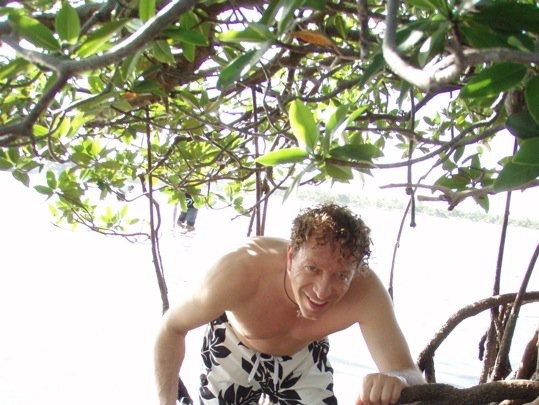 We are pleased to announce our October 10th GSAS speaker is Scott Fellman, owner of Tannin Aquatics, who will be giving a talk entitled Out of the Darkness - Blackwater/Botanical-Style Aquariums. The talk will discuss what blackwater is (including blackwater habitats in the wild), benefits, ins-and-outs of replicating a blackwater system in the aquarium.
Scott has been keeping freshwater and marine aquariums since he was a kid. His passion is creating natural-looking and functional biotopes. He's written for tons of publications (like Reef Builders, Reef2Reef, and Coral magazine), and has spoken at all sorts of reef-end conferences like MACNA. He was co-owner of a successful LA-based online marine livestock retailer, before selling his interest in 2016 to launch Tannin, which specializes in, you guessed it, selling natural materials for blackwater and brackish aquariums!
Usual Meeting Location, Otto-Miller 109, social hour at 6:30 PM, meeting starts promptly at 7:30, monthly auction to follow. Look for dinner with the speaker announcement on Aistrone a few days before the meeting.
Posted on Thu, 21 Sep 2017 by Erik
Missed Cory's Puffer Talk? Watch it here!
Cory McElroy has graciously agreed to let us make his puffer presentation from our September meeting available to anyone who is interested, even non-members. Thanks, Cory! And for those in Washington state who still have not joined GSAS, we have over 100 videotaped presentations in our library, available exclusively to our members!
Posted on Sun, 06 Aug 2017 by Erik
GSAS Fall Meeting Schedule
Here is the preliminary fall 2017 meeting schedule. The first two meetings are at our usual spot, Otto Miller 109. The remaining two meeting locations and dates have not been confirmed at this time, so check the website for changes!
Sep 12, 2017

Cory McElroy - Puffers

Oct 10

Scott Fellman - Blackwater Aquariums

Nov 14

Plant Auction - probably West Seattle

Dec (date TBD)

Holiday Party
Posted on Tue, 16 May 2017 by Erik
Auction 2017: Thanks to our Donors and Sponsors!

A huge thank-you to our local sponsor stores and national donors for supporting us in our most recent big auction. Please help support them by stopping by and buying their stuff!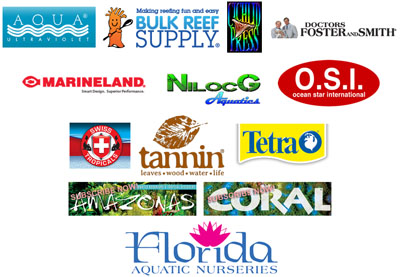 Posted on Sun, 19 Mar 2017 by Erik
2017 Home Show Video now available
The video from this year's home show is now available for your viewing pleasure!
Also see the slide gallery and previous years here.