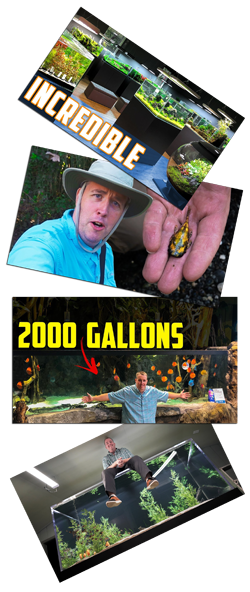 March 12, 7:30 PM, Otto Miller 109.
Cory McElroy brings international fishkeeping to Seattle. Last year he traveled to Peru, China (twice), Germany (twice), Vienna and Budapest. From collecting fish in the wild to attending the biggest fish hobby conventions in the world. While every culture does things differently and Cory can only speak English, he is able to speak the universal language that is the fish hobby. You'll see and hear things like armed guards guarding the Arowanas, Flowerhorns, Discus, Goldfish, Bettas and Guppy competition in the China International Pet Show, to the armed guards guarding gold in the Peruvian Cloud Rainforest. One of the riskiest questions in his travels was, what are we eating today?...from Pacu and Picure (the giant rodent) to McDonalds to gain access to a bathroom. His talk is full of real life fish nerd traveling the world and what's it's like when you can't communicate with the people around you except for pointing at a fish and a smile.
Cory is owner of Aquarium Co-Op and its ever-growing social media empire. He's also a longtime member of GSAS, having served on the board for several years where he brought back our BAP program from terminal hibernation.
Meeting starts at 7:30, with social hour at 6:30. Afterwards, our usual monthly auction, which is sure to be extra packed after February's cancelled meeting.
We will also have our usual "dinner with the speaker" before the meeting, location TBD. Contact kathy@thekrib.com to sign up.