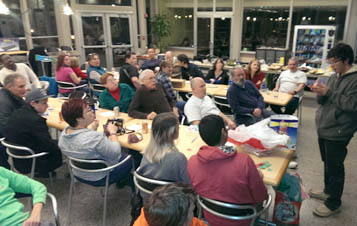 Hello GSAS Members,
It is time for our annual Holiday Party! Due to pandemic restrictions this event will be different this year ... like so many other events in our lives!
YOU are responsible for your dinner, we at GSAS will continue to provide the fun!!
Follow the link to the Zoom meeting e-mailed to you with your newsletter to see your fish club friends. We will play FISH-O, please print out your card/s and have your crayon ready ... everyone gets duckweed!! Phil will be our "caller"!!!!There will be many prizes!
Have your wrapped present ready for the White Elephant gift exchange, same as usual a small fishy themed gift. Everyone will be assigned a number and they will be pulled out of a virtual hat to determine the order. If your present is picked by someone you have to unwrap it and show it to everyone ... as usual gifts can be "stolen" up to two times. After the party everyone who participated will send their gift to the recipient, GSAS will reimburse you for up to $15 postage, just send me a picture of your receipt. We will help facilitate the exchange of address info.
HAP and BAP awards will also be happening ... as usual a fun filled evening!!! Hope to see many familiar and maybe a few new faces!!!
Christine
GSAS treasurer