Greater Seattle Aquarium Society
New to GSAS? Click here first for more information.
Most Recent Video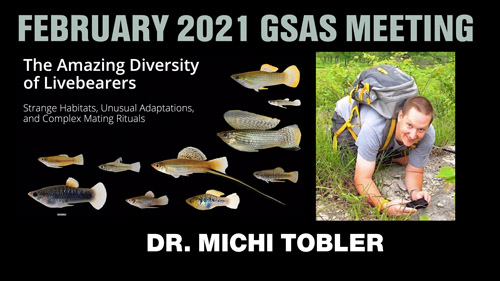 Latest News
Posted on Thu, 11 Feb 2021 (updated Sat, 20 Feb) by Erik
March 9th: Art Leuterman - Introduction to Killifish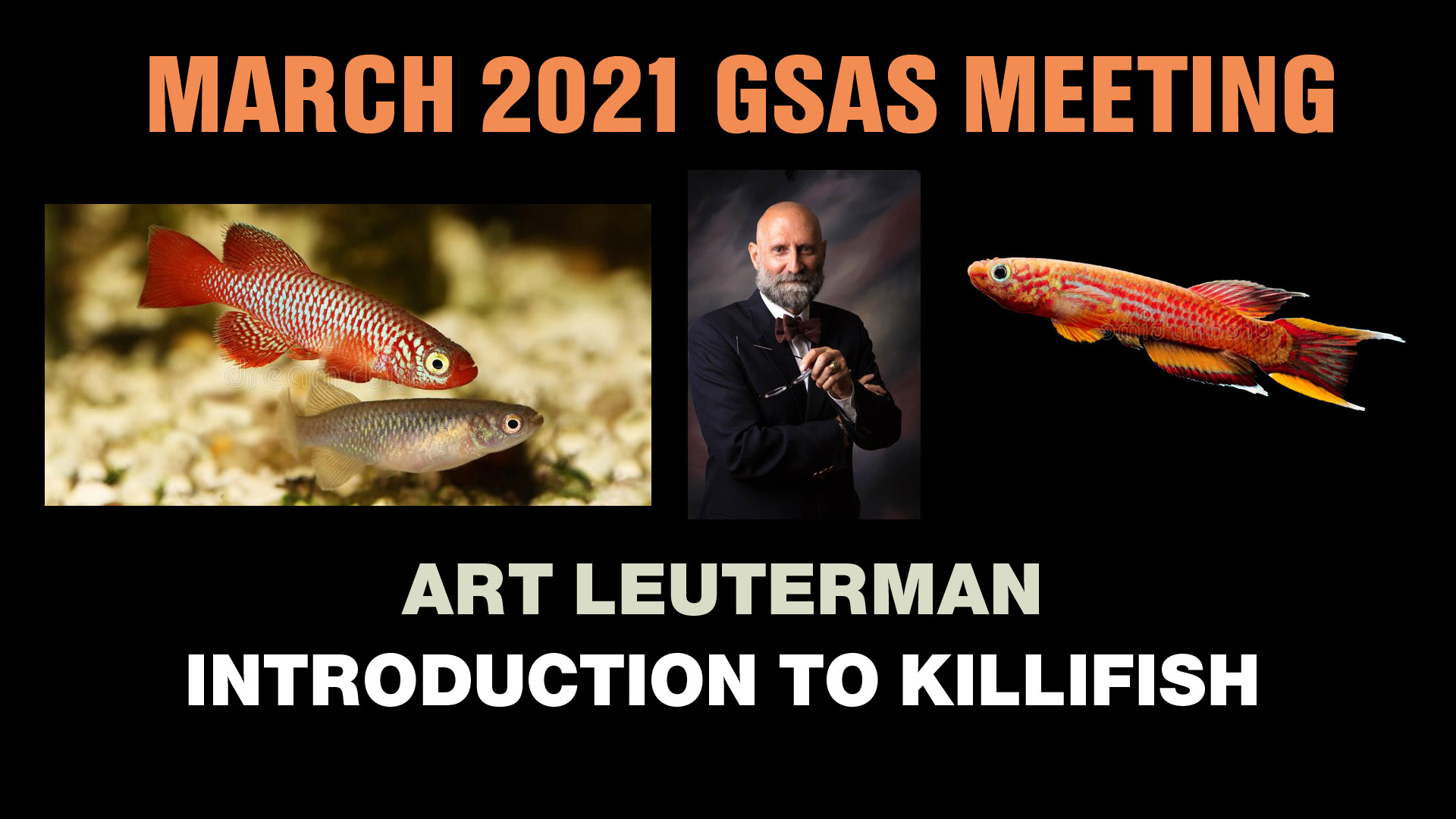 Tuesday March 9th, 7:00 PM PST
Livestream at gsas.org/stream
Art Leuterman has been an active member of the American Killifish Association (AKA) for over three decades; having served the membership in various positions including Affiliate Club Chair, Secretary of the Board of Trustees (BoT), Advisor to the BoT, and as Chairman of the BoT on three occasions. He is currently serving as Judging Chair and on the BoT.
He co-founded the Texas Area Killifish Organization and is the current editor of the Texas Area Killifish Organization (TAKO) Newsletter, as well as the designated TAKO BELLE REVUE Show Chairman for Life! He has had several articles published in Journal of the AKA, North American Native Fishes Association (NANFA) and various club newsletters on fishes and collecting.
Posted on Wed, 10 Feb 2021 (updated Wed, 24 Feb) by Erik
Spring Upcoming (Virtual) Meetings
Our Speaker Coordinator Mark has been working dilligently to round up a great lineup for the Spring season!
March 9, 2021: Art Leuterman - Intro to Killifish
April 13th: Home Show
May 11th: Dr. Rich Ross - Coral Spawning and Collecting
June 8th: Dr. Ted Coletti - Backyard Ponds
Posted on Mon, 18 Jan 2021 by Erik
February 9th: Dr. Michi Tobler - Livebearers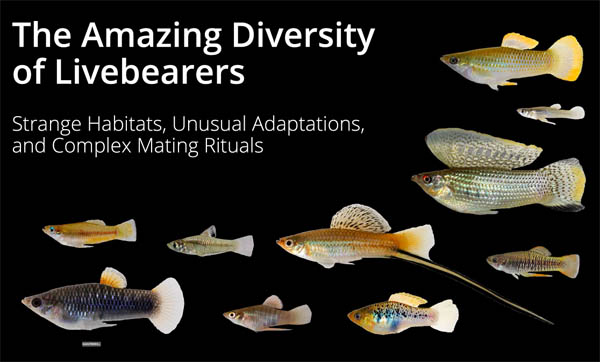 February 9th, 7:00 PM PST
Livestream at gsas.org/stream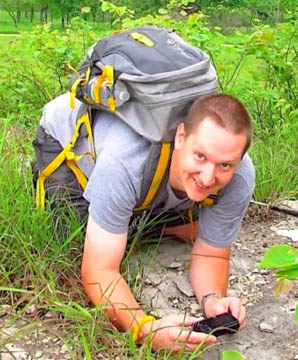 This is a program you won't want to miss! Michi Tobler, Associate Professor in the Division of Biology at Kansas State University, is a renowned fish scientist with a gift for communicating with tropical fish hobbyists. "Just Ask a Scientist" is a new column in The Livebearer, the journal of the American Livebearer Association. It provides fish hobbyists with an avenue to ask questions about the biology of livebearing fishes they keep in their aquaria that are then answered by a scientist, Michi, with matching expertise.
There are over 200 species of livebearing fishes in the family Poeciliidae that occur from Florida to Argentina. Poeciliids are particularly diverse in Central America and some of the larger Caribbean islands, Some genera of livebearers have become important models in evolutionary ecology research, providing textbook examples for studies in sexual selection and animal behavior, hybridization and speciation, as well as life history evolution. Nonetheless, the vast majority of species and even genera within the family remain unstudied.
Not only will Michi introduce this topic, but he will share some of his collecting trips and advise on how to successfully keep many of these species.
Posted on Mon, 11 Jan 2021 by Erik
COVID-19: No in-person meetings or auctions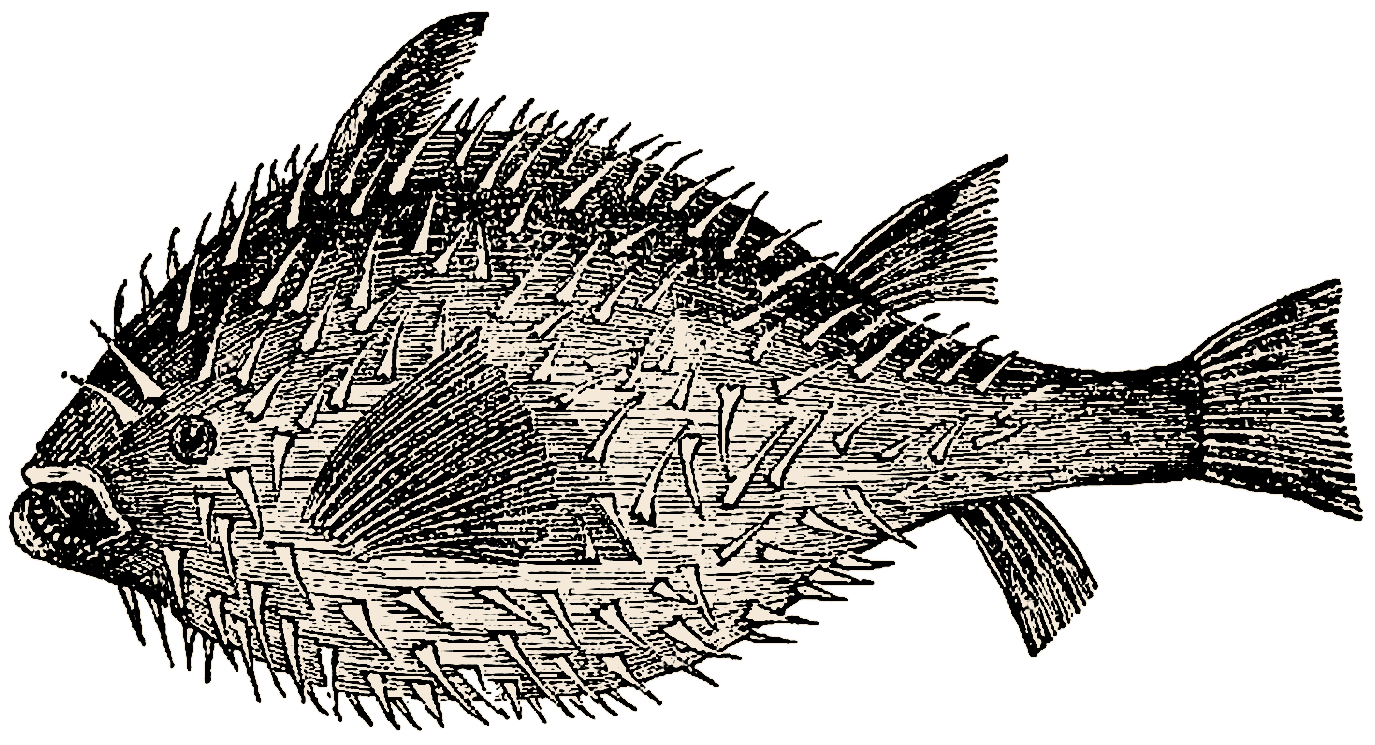 Due to the COVID-19 pandemic, all in-person club activities continue to be suspended in 2021 until further notice. No live auctions. No in-person home show.
Monthly meetings are taking place over our YouTube channel or Zoom. However, to make up for this, we have added extra meetings, and have been able to include presenters who otherwise might never be able to travel to Seattle.
We look forward to seeing everyone in person for meetings and auctions in the future!
Posted on Tue, 08 Dec 2020 by Erik
Club T-shirts available, now in blue!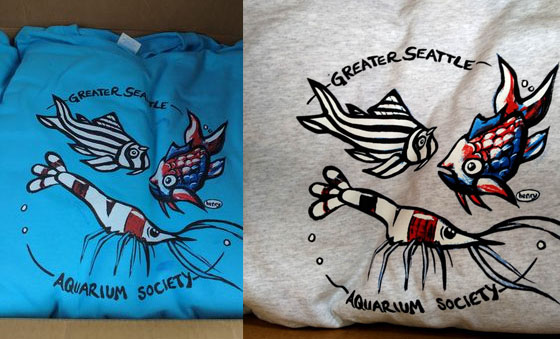 We ran out of small and medium sizes of our 2019 shirt, and rather than just reprint more in gray again, we did a run with a new color - blue! Same great design by Ryan Henry Ward of Seattle mural fame, but now with a beautiful aqua-background. Because we can't meet in person, we'll ship you one for a few bucks extra. Go to https://gsas.org/t-shirt.html to order.