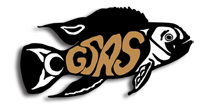 Greater Seattle Aquarium Society
The Greater Seattle Aquarium Society is a non profit corporation, organized under the laws of the State of Washington. The primary purposes of the society are to promote interest in the aquarium hobby, and to provide a forum for the exchange of information among aquarium hobbyists.
New to GSAS? Click here first for more information.
Latest News
Posted on Sun, 17 Jun 2018 by Erik
On Vacation...
GSAS is on summer vacation! Meetings return in September, starting with Karen Randall. Meanwhile, join us for our annual picnic July 28 at Woodland Park -- further details to follow soon.
Posted on Wed, 16 May 2018 (updated Fri, 18 May) by Erik
2018 Auction - Thank You!

A huge thank-you to our local sponsor stores and national donors for supporting us in our 2018 big auction. Please help support them by stopping by and buying their stuff!