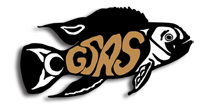 Join GSAS
Membership in the Greater Seattle Aquarium Society is open to all residents of Washington State, as well as attendees of at least one of our monthly meetings.
Printable GSAS Membership Form
Date of Application
First
Last
Phone
Address
City
State
Zip
e-mail address (required!)
New or Renewal?
Single $15.00 ____
Family $20.00 ____
Senior (60+)/Junior (-18) $10.00 ____
How did you hear about us? (Internet search, another website, a forum, flyer in fish store, another club, friend, etc. If it's a forum or website, which one?)

Please list your interests and possible meeting topics you would like to see at the bottom or the back of this form.
Please print send this form with payment (checks payable to GSAS) to:
GSAS c/o Christine Ranneger
3411 - 60th Ave SW
Seattle, WA 98116