Conservation Award Program
The Greater Seattle Aquarium Society is proud to be a part of the Aquarium Hobby CARES Preservation Program! Whether a beginner or an advanced aquarist, making space for at-risk species is what CARES is all about.
You don't have to have a dedicated species tank or even a large aquarium to join in and help save a fish. In addition, at-risk species come in all shapes and sizes so check out the Priority Species List on the CARES website regularly. Maybe you already have a species on the list or you'd like to acquire a new one. Either way, be sure to check the list regularly as the site is updated often and unfortunately, new fish are being added all the time.
For questions about the GSAS CARES Program, or to locate an at-risk species please contact your CARES Support Team through e-mail or at one of our monthly meetings.
Goals
The purpose of the CARES Preservation Program is to create a base stock of conservation priority species through encouraging hobbyists worldwide to devote tank space to one or more species at risk and distribute offspring to fellow qualified hobbyists, while forming an information network between aquarists, scientists, and conservationists.
The CARES Preservation Program has four major objectives:
to bring awareness to the critical situation of fish in nature, while educating the public and stressing the importance of our roles as responsible aquarists;
to recognize, encourage, and offer support to hobbyists who maintain species at risk;
to share fish as well as data and experiences through notes and manuscripts so that others may learn to maintain those identical and similar species; and
to preserve species at risk for future generations.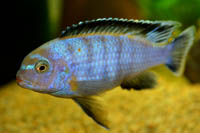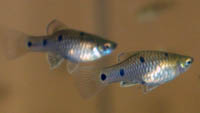 Procedures
Participation is easy. Just go to online CARES Species Registration Center. If you prefer, you can also print out the form and turn it in to a CARES Support Team Member at the next meeting.
In addition to the form you must also submit a clear photo of your CARES Species to the CARES Support Team. You may upload jpeg files directly to your submission, or E-mail it (it's OK to send or upload big files!), however if you do not have email you can bring your photo to the meeting. The photo should be a clear focused close-up shot and is for identification purposes only.
CARES species qualification can be determined one of two ways.
Visit the CARES Priority list found here and locate your specific fish species in question.
If your species isn't found on the CARES Priority list you can also check the IUCN Red List of Threatened Species website found here. Qualifying species will have one of the following Red List Categories:

Near Threatened (NT)
Vulnerable (VU)
Critically Endangered (CR)
Extinct in the Wild (EW)
Please ensure that the species you intend to submit is found in one of the two sources above. Submissions will not be approved if this qualification is not met.

CARES also provides a great Species Journal which allows you to record and keep detailed information about your fish. This Species Journal is optional and does not have to be submitted for acceptance into the program.

All participants are also to be provided with a CARES Informational Packet explaining the program in detail and offering additional education about CARES. You can download that packet here.
Regulations
Participants must be GSAS members in good standing.
All information on the Species Registration Form must be complete. If you are missing information please contact the CARES Support Team.
A clear photo of your CARES Species must be submitted for identification.
You must submit a new form for each species you would like to register.
Each quarter you will be contacted by the CARES Support Team to see if you are still keeping your CARES Registered Species. It's ok if you're no longer working with that species. This information simply needs to be updated regularly in the CARES Master Database and in order to maintain its standing as a CARES Club we must submit quarterly reports. Failure to reply to requests for a status of your registered species may result in losing your registration.
The GSAS CARES Program now has a point system, similar to BAP:

| Activity | Points | Repeatable? | Annual Max Points | Points earned per species | Notes |
| --- | --- | --- | --- | --- | --- |
| Keeping CARES species | 5 | Yes | 5 | Yes | Members are encouraged to 1) keep CARES species and 2) keep them for an indefinite period of time. Incentive provided for sustaining a species for the long-term. |
| Initial breeding of CARES species | 10 | No | N/A | Yes | Given the conservation status of a CARES species, first successful breeding of a CARES species should be rewarded. (fry must survive longer than 30 days) |
| Sharing CARES species with GSAS members or GSAS auction donation | 5 | Yes | 15 | Yes | Keeping true to the CARES spirit, sharing with other members and/or donating to GSAS auctions is highly encouraged. A minimum or one male/female pair is required. Requiring monetary compensation or in-kind trades with other members will not earn points, sharing must be free of compensation in any form. Maximum of 15 points per year, per species. |
| CARES species knowledge sharing either GSAS meeting presentation, or GSAS Newsletter article contribution | 5 | Yes | 5 | N/A | Members are encouraged to share knowledge about CARES species through research or personal experience. CARES articles or presentations are not limited to species the member is in possession of, and can also cover a larger subject to species/habitat conservation. |

...and awards given at appropriate point levels:

| Award Level | Points Required | Title |
| --- | --- | --- |
| 1 | 25 | CARES Fan |
| 2 | 50 | CARES Supporter |
| 3 | 100 | CARES Enthusiast |
| 4 | 200 | CARES Authority |
| 5 | 400 | CARES Champion 1 |
| 6 | 500 | CARES Champion 2 |

Each year the GSAS CARES Support Team will determine a CARES Member of the Year. This person is the one who has best exemplified the spirit of the CARES program. Their name will be submitted to CARES as the GSAS Member of the Year and receive recognition from the club for their outstanding involvement.
GSAS minimum criteria for this award include:

Must have at least one successfully registered CARES Species & issuance of a Certificate of Recognition.
Submission of a completed Species Journal to the GSAS CARES Support Team.

And at least one or more of the following:

At least four proactive CARES related posts to Airstone in a calendar year.
Submission of at least one article and a photo to the GSAS Newsletter within a calendar year. Article may be about your species or about the CARES program in general, i.e. research or news from CARES, education about the program, etc.
CARES Registered Species entered into the GSAS BAP Program.
CARES Registered Species fry brought to an auction and a CARES Data Sheet and/or Species Journal included with the fry. (Please inform a CARES Support Team member if you bring your CARES Species to an auction.)
Give a 5-Minute presentation on your CARES Registered Species at any one of the monthly meetings (time and date to be coordinated with the CARES Support Team and GSAS President).
Create an educational posterboard about your CARES Species that can be displayed at the GSAS Monthly Meetings.