Over the course of a year, meetings will cover a wide variety of topics appealing to both the beginning and advanced aquarist. Meetings are usually focused around a guest speaker who is either a local or nationally known expert and range from discussions about koi ponds, to explanations of the cutting edge of marine aquaria technology, to tips on fish breeding and raising your own live food without annoying your neighbors. Here is an archive of past presentations, most of which are available from our library for online streaming or as DVDs.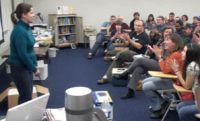 At the end of the meeting, there is usually a small auction of member-supplied fish, plants and drygoods (anyone may bid). There are also door prizes, trades, and other great deals to be had.
The months of November and April are especially important for the GSAS because this is when we hold our massive plant and general auctions respectively. These auctions are a major source of income financing our philanthropy and general funds. They're also a great opportunity to find unusual livestock and dry-goods, and generally have a hectically good time. They have become so popular that we've outgrown our usual space, and are now holding these events at larger venues (see formal announcement for exact location).
We break for the summer months of July and August and hold no formal meetings. However, we do arrange a picnic during this time period.
Our usual meeting location is room 109 in Otto Miller Hall (aka Miller Science Learning Center) on the campus of Seattle Pacific University, close to the canal at the intersection of 3rd Ave West and West Nickerson, on the canal side, across the street from the bank and the gym. Free parking is available in the lot at 3rd and Nickerson, and also on the street. Parties and big auctions are held elsewhere -- check the announcement for exact location.
As per our insurance and SPU regulations, pets (other than our aquatic animals) are not allowed at the meetings or auctions.