Home Show 2020 Registration Open
Posted on Sat, 14 Sep 2019 (updated Sun, 20 Oct) by Erik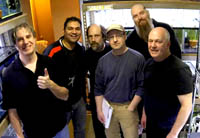 Home Show 2020 is now open for registration at gsas.org/homeshowform.php.
It's simple: Six of us, a videographer, photographer, Chair, and three judges, come to your house for about 30-45 minutes on the weekend (not the Super Bowl). You show off your tanks and we ask questions. The GSAS Home Show is open to all members, from I've just got one, to I have a fishroom. Everyone, including you! Results are shown at a meeting in the spring.
Did you participate in one of the workshops at last May's AGA Convention? Or did you win a tank in the auction or raffle? We would like to come visit!
If you'd like an idea of how much fun it is, see previous years here.