October 8th: Dr. A.I. Mazeroll "Fishes of Cambodia" (Rescheduled)
Posted on Sun, 15 Sep 2019 by Erik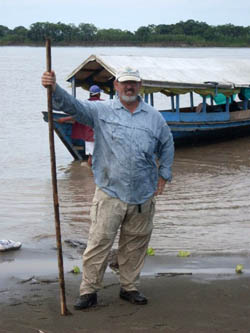 October 8th, Otto Miller Hall, 7:30 PM
The snow got us back in February, but we rescheduled! Our October meeting's presentation is Fishes of Cambodia - Hidden Gems, presented by Dr. Anthony Inder Mazeroll. He describes the talk as a photographic guide to the fishes he encountered in different habitats in Cambodia.
Dr. Mazeroll is a professor of Biology and Environmental Studies at Soka University of America. He has been keeping fish since the age of 8, and currently has a 2-car garage converted into a fishroom, as well as a 500-gallon Peruvian Amazon biotope tank in his living room. He divides his time between Southern California and Peru, where he is the executive director of the Amazon Research Center for Ornamental Fishes in Iquitos.
Meeting starts at 7:30 PM, 6:30 social, with traditional monthly auction to follow.