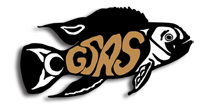 Live Auction November 14th in West Seattle!
Posted on Thu, 12 Oct 2017 (updated Fri, 13 Oct) by Erik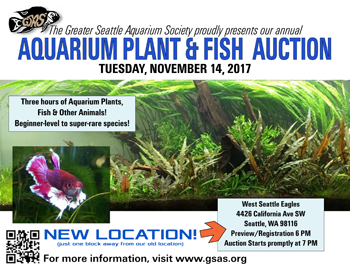 Join us on Tuesday, November 14th for our annual Aquatic Plant and Fish Auction! This is our second-largest fundraiser of the year, and a great way to acquire new plants, fish or invertebrates. The stock is mostly brought in from members, but we also get some commercially-grown aquatic plants. There will be specimens suitable for beginners and advanced aquarists alike!
This year we are just a block and a half away from last year's site, to the Fraternal Order of Eagles, 4426 California Ave SW. Easy to navigate to from I-5 and the West Seattle Bridge, right next to a ton of great food options, and parking in two lots and on the street.
Bidding starts at 7, preview and setup at 6. Please read the auction guidelines for more information. Non-members are welcome! If you are a member, please pre-register your items. Also, if you have a large number of donations, contact auction chair Erik at erik@thekrib.com.
Bid early, bid often, support your club!